We thought that we were probably done storm chasing for 1999, but when we noticed that a strong cold front was moving into the area, we thought we had one last chance.
Around 4:00, there was a batch of storms to our north, but we weren't quite sure if they would be tornadic. We waited around until 5:00 when we noticed that storms were developing in SW Iowa in front of the cold front. These storms appeared to have a greater potential to become tornadic than the storms to the north. So we decided to go south on I-35 then west on I-80 toward Omaha.
As we were approaching the storm, we could see the large anvil and also some mammatus clouds. The storm appeared to be dropping heavy rain on the Interstate, so we felt that we needed to get south of the storm.
We got off the Interstate at exit 86 and headed south toward Greenfield Iowa on Highway 25.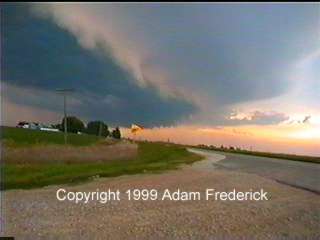 This shelf cloud was viewed to our west as we were driving south. We stopped for a few moments to take a picture of the shelf cloud over the road where we had been. We then continued to the south so we didn't get caught by the strong winds associated with it.
This shelf cloud continued for many miles. It seemed like it would never end. Eventually, before we reached Creston, we reached the end of the shelf cloud.
We knew that if we wanted to catch a tornado, we would have to head a little south and west. We left Creston on Highway 34/25.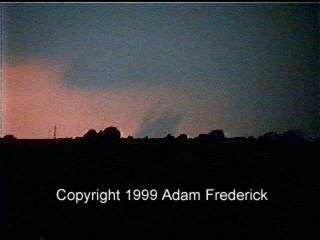 Shortly after, the highway split and we were on Highway 34 heading west. At 7:30 PM, we saw this mysterious cloud. It is hard to see in this photograph, but there was a small rain free lowering with this cloud that grew from the ground up. We are not sure if this was a tornado, but it certainly looked suspicious.
We quickly tried to catch up to the storm, but it was still a ways away. When we got to Corning, we headed to the south.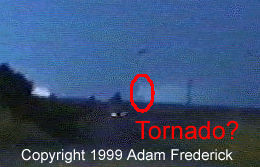 As we popped up over the hill on this gravel road, we saw this huge rotating cloud. We could not tell if this was a tornado or just a rotating wall cloud. We got to the top of a hill and realized that the big cloud was not on the ground. At the same time, we noticed a skinny, rope-like protrusion from the cloud base to the right of the wall cloud. There was a plume on the ground which could have been a debris cloud.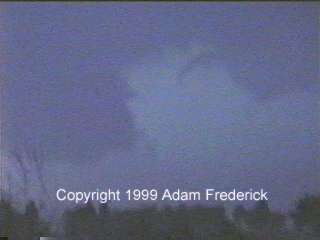 A few minutes later, when we got closer and over the hill, we could see a little appendage remaining where the possible tornado was.
There was still a very large rotating wall cloud to the south (left) of the appendage.
We sat on a dirt road until the storm started to wrap rain and hail around into us. Not wanting to get stuck, we went back east until we got to a gravel road that went south. This road eventually met up with county road J20 where we sat watching the storm rotate.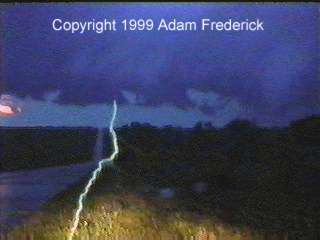 This picture displays a perfect example of why one should be careful while storm chasing. One of the biggest threats of storm chasing is the lightning. This stepped leader was coming from the radiator of the car.
A few frames after this image was caught, a large lightning bolt struck to north (right) of the car.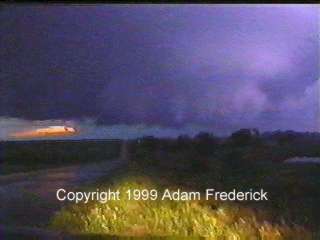 The lightning was not the only interesting sight to see. As can be seen in this video capture, there is a large rotating wall cloud along with a well-defined mesocyclone.
The problem now was that the sun had set and it was getting harder and harder to see the storm. We went back east to Highway 148 and then south toward Bedford. We were just north of Gravity when we pulled over on a gravel road to get another look at the storm.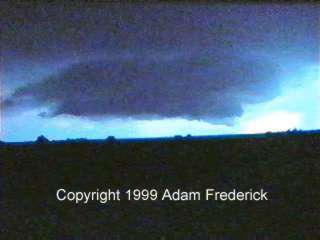 We ended up pulling over in a little cemetery off of a couple gravel roads. We sat there and were able to watch the storm as it slowly moved SE toward us.
This was a view of what we saw in the lightning flash. You can easily see the rotating wall cloud. Out of the right side, there is a funnel cloud starting to hang down.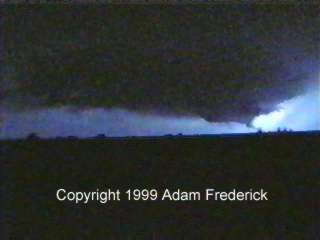 The funnel started to hang even further down. There was still violent rotation in the storm, and we were expecting the storm to drop a tornado any moment. Pay special attention to the clump of three trees on the right side of the picture. Notice how the one furthest to the right is smaller than the others and that you can see space between the trees. We stayed in the same location when we got the following image.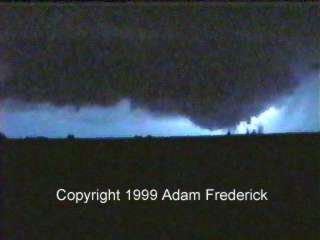 As can be seen in this picture, the tree on the right is now considerably taller than it was before. That is probably because this is no longer a tree that we are looking at. This is more than likely a tornado in the early stages behind the tree.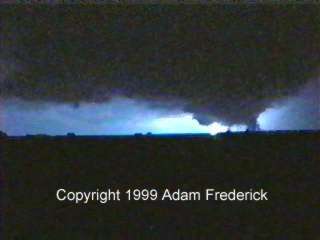 Now, there is little to no distinction between the trees. This appears to be a tornado behind the trees. We could still see this in other video captures, but this one showed it best.
We ended up making it to Bedford and stopping to get gas. The problem that we now had was getting back to Ames without being eaten by the storm. We went east on Highway 2 until we got to Interstate 35.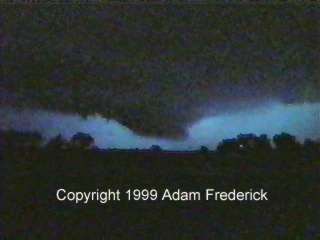 All the way along Highway 2 and a little way north on Interstate 35, we saw this persistent lowering. We managed to outrun it and make it safely back to Ames where we got really wet as the thunderstorm hit as we were making it to our building.
To view more video captures from this storm, visit the 1999 video capture page in the Photo Gallery.