It started out like a normal day. There was a threat of thunderstorms later that evening, but we had an American Meteorological Meeting at Iowa State University later that night. About a half hour before the meeting was supposed to start, some storms blew up two counties to our west. Then four minutes before the start of the meeting this tornado warning was issued.
Since the group is full of meteorology majors, no one wanted to be sitting in a meeting. The meeting was quickly adjourned and four of us ran out to the parking lot and jumped in the car and sped off toward Boone county to try and intercept the storm. We never really expected to go out and actually see anything since the warning was about to expire.
When we got close to the storm we were able to see a nice mesocyclone. Since we left so quickly, I forgot to grab my camera. I was able to get video of the storm, but due to the low lighting and video capture, and that I had only owned the camcorder for three days and didn't know how to use it, the image didn't turn out too good. Shortly after we got to the storm, the below warning was issued.
This warning was issued almost for our exact location. We were able to see a little funnel hanging down below the mesocyclone.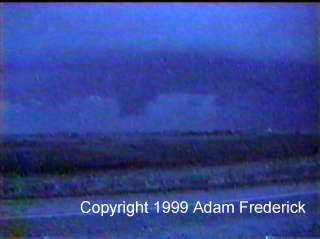 We continued to follow the storm even after dark. Normally I don't like to chase storms after dark unless I was chasing them before the sun set. Since I already knew how the storm was moving and also where the wall cloud with tornado was, we continued to follow it. Some of the below video captures are what we saw. If you look closely, you can see a tornado and a well defined wall cloud.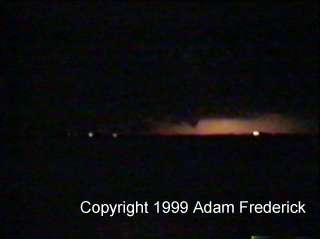 It is hard to see on this small picture, but on the video a small thin rope can be seen coming down from the larger funnel as seen in the lightning.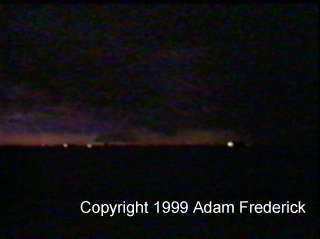 The wall cloud can be seen with a lowering coming out of the left side of the cloud. Since we were far away, it is hard to confirm if this was a tornado or not. While we were watching this, one final warning was issued on the storm.
Eventually the storm started to weaken after dark and we abandoned the chase. Everyone was happy that they got to see a tornadic thunderstorm this early in the year.