Even though it was mid October, there was a threat of storms that day. After I got done with classes, a severe thunderstorm was issued for the county to our north. I grabbed a chase partner and we left. We didn't really expect to see much that day because it was cold and also because of the time of year. When we got to the storm, it was just producing heavy rain. As we headed back south, we heard the EAS go off on the radio. There was now a tornado warning on a new storm just to our east. The tornado warning had only been issued for a period of 10 minutes when it expired and was extended with the severe thunderstorm warning below.
We ended up following behind the storm. We really didn't want to get in front of it, and we couldn't get to the south of it either. When looking at the storm, we could see the hail shaft below.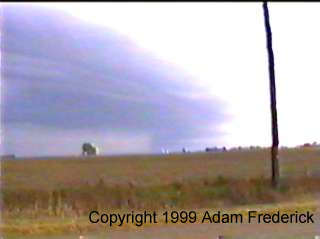 That vertical white section from the middle to the left of the picture was hail. It ended up being small hail, but it fell in large quantities.
The storm continued to move to the east north east at a relatively slow rate of speed. As we drove into Marshalltown, we saw this cloud from the east side rising into the sky. At this point we didn't know what it was.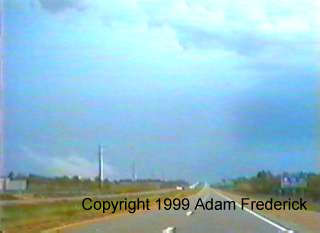 It turned out that the cloud was fog coming up off of farm fields with four to five inches of hail on the ground. We continued to follow highway 30 a hail covered highway 30. As seen in the picture below, it looked like it had snowed.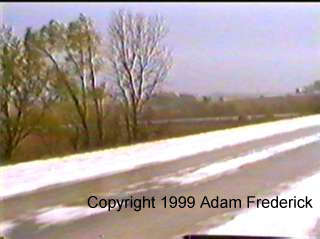 The hail was so high as times, the bottom of the car was hitting it. The trucks that went by almost acted like snow plows as they shoved the hail from some of the higher spots off the road and also into our lane. As we got into La Grande, it also looked like it had snowed.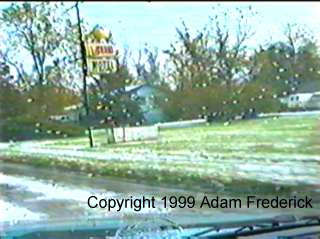 As the storm continued east, one final warning was issued for it.
Later on, we ended up south of the storm when it decided to take a turn to the south. We started to get hit with hail, but the largest hail was probably marble sized. We took shelter at a gas station where I could park the car under the canopy for the gas pumps. The storm ended up producing heavy rain and lots of lightning.
To view more video captures from this chase, check out the Photo Gallery section for 1998 Video Captures.